Engineering Days 2022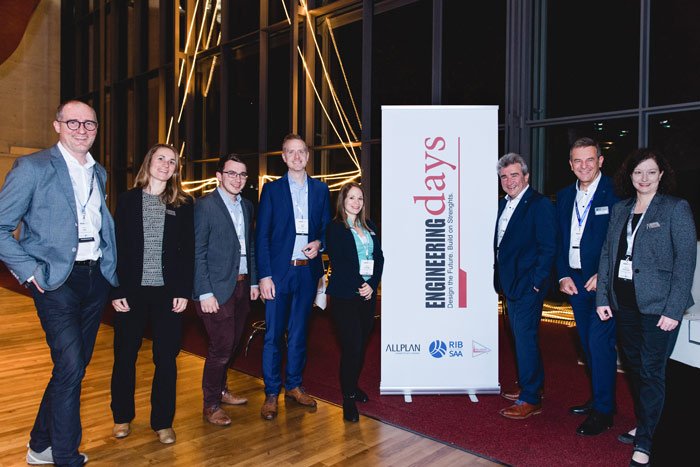 29. - 30. November 2022
Salzburg Congress in Salzburg/Austria
Engineering Days 2022: Networking in the precast industry
After a break due to the pandemic, the Engineering Days took place on November 29 and 30, 2022 at the Salzburg Congress. More than 420 experts from the precast concrete industry learned about the latest trends in the industry and took advantage of the numerous networking opportunities. The focus of this year's event was "Prefabrication in the New Normal". The program included a total of 21 technical lectures and 20 practical workshops.
In terms of content, the Engineering Days addressed current topics, such as sustainability in the construction industry and strategic resilience. It spanned a broad spectrum of topics, from innovative dry connections and carbon concrete to practical examples, improvements in reinforcement, precast planning and production, and cyber security.
More than 40 companies from the fields of plant engineering, automation technology, CAD, ERP systems, and other related trades attended the event, which was well received and provided possibilities for professional exchange. During the breaks, the 5-star Hotel Sheraton Grand Salzburg spoiled the visitors with culinary delights. The organizers – Allplan Software Engineering, RIB SAA Software Engineering, and Prilhofer Consulting – are already looking forward to the next Engineering Days on 26 and 27 November, 2024 in Salzburg.
Program
Exhibiton list
Tuesday, 29th November 2022
Key Notes
Development of the DACH Region Construction Industry After Covid
Building Systems in Times of Crisis
aspern Urban Lakeside - Digitalization Best Practice
Lecture Session 1: From the Precast Factory to the Building
From the Precast Factory to the Building - A Practical Insight
NEVO-CONNECT® - the perfect and fast dry-connection for precast concrete elements
Precast Concrete Tracking – A Digital Tool for Plant and Site
Lecture Session 2: Future of Reinforcement – Reinforcement of the Future
Carbon Concrete Double Wall System
Usage of Steel Fiber in Precast Application and the Impact on Sustainability
Carbon Concrete – Maximum Dimensions of Reinforcement for Minimum Component Dimensions With Significantly Reduced Environmental Impact
Lecture Session 3: The Digitalization Success Factor
Value Creation Through Customized Automation
Process optimization through consistent cross-system data usage - Using the example of the new Schöck catalog in Allplan
Blue Collar Digitalization
iTWO FM: Facility Management for Precast Plants
Closing Lecture
Strategic Resilience – Preparing Companies for Future Crises
Wednesday, 30th November 2022
Lecture Session 4: Sustainability in the Precast Factory
CBS – Steel Frame Lightweight Concrete System
Driving Innovation and Sustainability with Precast
CO² Reduction in the Concrete Industry
High-Performance Concrete for CO² Reduction
Lecture Session 5: Formwork Technology: From Trend to Practice
3D Moulds and Ready to Insert Modules, a Growing Trend in the Precast Sector
Sandwich Wall Production in Battery Formwork
3D Printed Concrete Projects in Practice